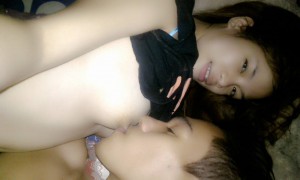 One Friday night after work, I went out to have a few drinks alone. While I was enjoying my bottle of beer, I noticed that the group across my table looked very familiar. To break the awkward glances, I flirted with the guy seated beside my table. He invited me to dance and I ended up grinding up against him after my third bottle.
To my surprise, he invited me to the nearest motel. The catch: He came in with another guy friend and had to hitch a ride back out. I refused the offer and told both of them I couldn't stay late. But they were insistent and the guy I danced with even started holding me on the waist, moving his hands down to my butt. I felt horny so I told them that we could do it in the car instead.
The guy I danced with sat beside me in the back seat while his friend who owned the car took the front seat. The first guy started slipping his hand in my skirt and fondled my clit while French-kissing me. While I was kissing the first guy, I felt the car owner grab my boobs and finger me. I was so horny I wanted both of them inside me.
We reclined the front seats so I could kneel on it and give the first guy head. The second guy licked my pussy while sitting on the driver's seat. After good oral sex, the car owner exchanged seats with the first guy and rode me doggy style. I lost count of how many times I screamed in satisfaction.
Download
Mirror
How To..
Report
Sharing is Caring ↷